CONTACT


Thunderstorms Pug Pals
15402 Potter Court
Bowie, MD 20716

Send us

E-mail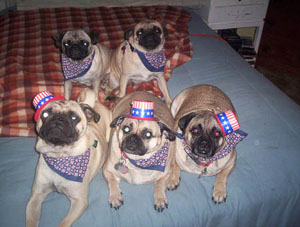 Breeding Pug dogs is a solemn responsibility.

It requires deep knowledge, constant study and extreme diligence to produce consistent quality. It's vitally important that breeding dogs, especially smaller breeds, have good hips. Every dog we breed and breed to, must be healthy and sound with quality papers.
Thunderstorms has experience of nearly 15 years . We know what people want and deserve from their dogs. With one of our puppy's, you benefit from the knowledge and experience of our expert breeder and dog lover, who prove the worth of her credentials every day.


Our pups are all well socialized and temperament tested. We spend a lot of quality time with our puppies.

We will always be happy to work with you and your new puppy, as it becomes a very special dog. We will help you guide your dog's development and help you build a special place in your heart for your pug.

We will always welcome our puppies back into our home if you should ever encounter a problem continuing your care for them. We do not like to see puppies come back to us under these circumstances,but we understand sometimes it can not be avoided. We do recommend you take plenty of time deciding whether or not to adopt a pug puppy. It is a lifelong commitment and should be taken very seriously. So PLEASE DO A LOT OF RESEARCH ON PUGS before deciding!!
We will not return any costs you may have incured over the period of time your pug was under your care. We suggest that you do not attempt to resell your pug to anyone as this could cause further problems for your pug. The best thing you can do for your pug when you can no longer care for him/her is return him/her to us. We will ensure that the pug finds a loving forever home whether with us or through other close Pug partners. This is the very BEST way to ensure the pug you need to surrender will be well cared for and provided with all that he/she may need moving forward.